*** All Day Breakfast ***
School Lunch - Thursday 2nd October 2014
Click here for further details
***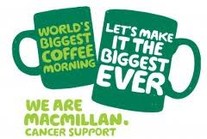 Macmillan Coffee Morning
Friday 26th September 2014 - 915-11am
Donations welcome!
'WEAR WHAT YOU WANT' NON-UNIFORM DAY - £1 PER CHILD
***
Have a listen to our school song titled, 'All Together'!
Our competition winners recorded this in December 2013.

Click here for access to our Brunswick Blog with news and information straight from the classrooms!
Our Live Twitter Feed......

Brunswick CPS @BrunswickS13
19 Sep Have a good weekend everyone!
17 Sep First of the U11 football trials took place today, second and final trial on Friday. Squad of 9/10 will then be announced #TeamBrunswick
17 Sep What great role models we had in Upper school Golden Leaf assembly this morning! Thanks also to the parents who could make it
17 Sep Please remind children to bike and scoot carefully to school - we have had reports of dangerous riding on Bridby Street #roadsafety
17 Sep Upper school golden leaf assembly this morning!
16 Sep cont... they are then placed in our tubes, where the winning team will win a reward! #sportstokens