News
Bad weather: It is that time of year where bad weather can affect schools, particularly snow. Please always assume that school is open unless you hear from us otherwise. In the very rare event of school closure, you will receive a text message from us and information will be given to the local authority website www.sheffield.gov.uk, Radio Sheffield, Hallam FM and will be posted via twitter @Brunswick S13.
If the weather makes it too difficult for you to travel but school is open, please report this as you would a normal absence.
Please do not contact the school office to ask if we are open if at all possible, as this significantly slows our procedures down
*** Important dates coming up ***
(Click underlined words for more information)
Wednesday 4th February - Y2 Abbeydale Industrial Hamlet visit
Wednesday 4th February - KS2 (Y3-Y6) Sports Assembly
Monday 9th February - Y6 Dearne Valley Residential Visit
Friday 13th February - SCHOOL CLOSES TO PUPILS 3.25PM
CLICK HERE FOR DETAILS ON FREE FEBRUARY HALF-TERM ACTIVITIES
Monday 23rd February - SCHOOL CLOSED TO PUPILS - STAFF TRAINING DAY
Tuesday 24th February - School reopens to pupils 8.45am
***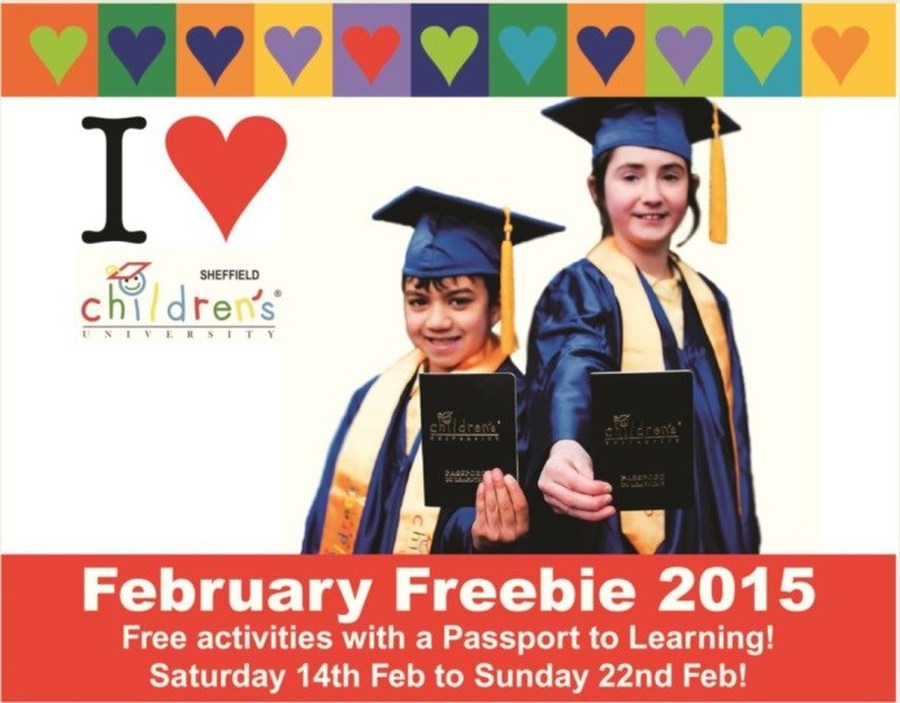 The Childrens' University - February Freebie is back and BIGGER than ever!
We wanted to let everyone know in advance about our range of over 50 FREE activities that children and young people can take part in over the February half term. The programme of activities is designed to be varied in terms of activity type and location, and they will be delivered right across the city.
Any child can take part as long as they have a Children's University (CU) Passport to Learning (available from Sheffield libraries for £2). This enables them to collect CU credits (1 per hour of activity) at validated Learning Destinations (activity providers across the city who we have checked for quality and safety) which will earn them special CU award certificates and badges at regular intervals right upto 1000 hours. After the February Freebie 2015 promotion, they can continue collecting CU credits at the Learning Destinations in Sheffield and beyond.
We have all kinds of activities from curating your own favourite toy in a museum, fire-lighting in the woods, circus skills, gaming and music, to rugby, sewing, martial arts, dance, drama and climbing. You can even learn all about keeping chickens, have a go at programming a LEGO ® robot and finding out all about Sheffield's famous trademarks and even the famous things you never knew about your own local community.
CLICK HERE FOR FURTHER INFORMATION!
******
Have a listen to our school song titled, 'All Together'!
Our competition winners recorded this in December 2013.

Click here for access to our Brunswick Blog with news and information straight from the classrooms!
Our Live Twitter Feed......

Brunswick CPS @BrunswickS13
07:35 Friday 30th January, we are open as normal today. Take care getting here.
29 Jan RT @macmillancancer: World's Biggest Coffee Morning 2014 raised >£25 million. We thought that deserved a second tweet. P.S. Thank you all …
29 Jan 200 followers as of today! Thanks!
29 Jan Thank you for your support today. We anticipate being open as normal tomorrow, but look out for updates.
29 Jan Please can children be collected from the school hall, via the main entrance or the swimming door
29 Jan @mchllbo now that's what we call community! Thanks! #HotelParents